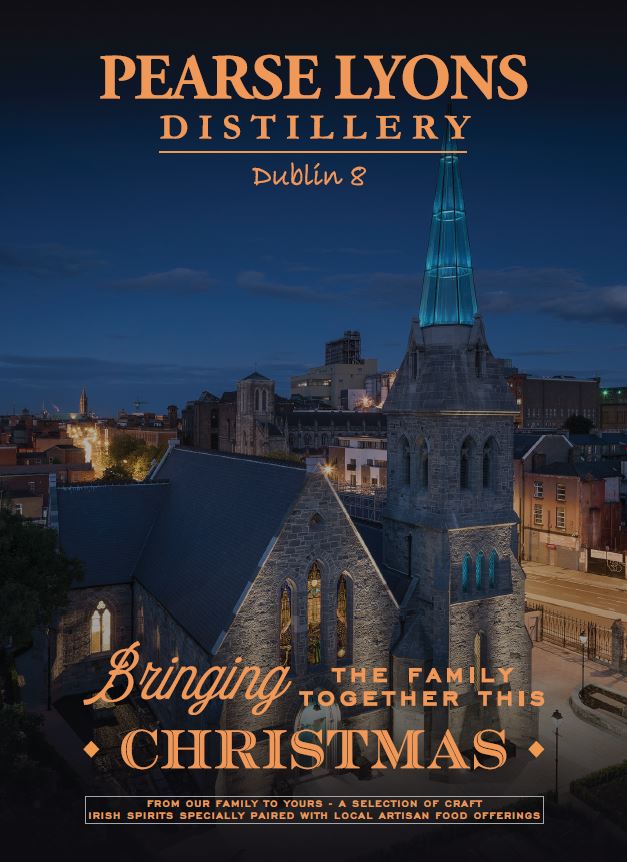 Pearse Lyons Distillery is proud to be Dublin's only family run independent distillery. Located in the refurbished St. James' Church on James's St. Dublin 8, our distillers bring you thhttp://www.pearselyonsdistillery.com/wp-content/uploads/2020/10/PEARSE_LYONS_CHRISTMAS-CATALOGUE2020_WEB.pdfeir selection of multi-award winning Pearse Irish Whiskey, Ha'penny Dublin Gin and of course our elegant Mediterranean Míl Gin.
The closure of our Visitor Centre due to Covid-19 has allowed us time to seek out like minded local Irish producers to bring you the finest locally sourced artisan Christmas hampers.
Something for Everyone
Whether it's a corporate gift for a client or a thank you for a staff member or friend, our Irish artisan Christmas Hampers feature something for everyone: Exclusive Pearse Irish Whiskeys and Gins chosen by our Distillers; treats that can be savoured and shared with the whole family from Sheridans Cheese, Kish Fish, Dublin Cookie Co.; Bean and Goose Chocolates and Pompous Pantry bakes. Cloud Picker Coffee will also create the perfect Christmas morning pick-me-up!
Click and Collect or Order Online
Each item can be purchased through our online store where you can select an option to Click-and-Collect or have it delivered to your door. We hope you enjoy our locally inspired Christmas Hamper offering, which you can view by clicking here. If it's a bottle of award wining Pearse Irish Whiskey, Ha'penny Gin or Míl Gin, our new online store will open in a couple of days, which allows you to ship internationally.
If you would like further information on our Christmas gifting or hamper options, please contact us on +353 (0)1 691 6000 or email info@pearselyonsdistillery.com.